Mercedes-Benz Sprinter
314CDI L3 3.5T LUTON TAIL LIFT
2018
(KP68NZE)
£20,299
Plus Vat
including £199.00 Admin Fee plus VAT
Great news! Contactless delivery is available at this branch
Finance (Hire Purchase) Example
6 Months Comprehensive Warranty
Included
6 Months RAC 24/7 Breakdown & Recover
Included
5 Days Vehicle Insurance
Included
1 Months GAP Insurance
Included
---
HP Option to Purchase Fee
£1.00
Annual Rate Of Interest (Variable)
8.96%
Price Inc Admin Fee £238.80 and VAT
£24,358.80
Amount Of Credit
£20,300.62
Total Charge For Credit
£9,094.68
1/3 Of Total Payable (ii)
£11,151.49
1/2 Of Total Payable (i)
£16,727.24
Representative APR (Fixed)
16.8%
If a quote is not supplied it may be due to our maximum allowable mileage for finance of 150,000 or our minimum amount for finance of £1,500.
We have other finance providers who may be able to accommodate your requirements, so please contact us for details.
(i) TERMINATION : YOUR RIGHTS
You have a right to end this agreement. To do so, you should write to the person you make your payments to. They will then be entitled to the return of the Vehicle and to half the total amount payable under this agreement. If you have already paid at least this amount plus any overdue instalments and have taken reasonable care of the Vehicle, you will not have to pay any more.
(ii) REPOSSESSION : YOUR RIGHTS
If you do not keep up your side of the agreement but you have paid at least one third of the total amount payable under this agreement, we may not take back the Vehicle against your wishes unless we get a court order (In Scotland we may need to get a court order at any time). If we do take the Vehicle without your consent or a court order, you have the right to get back any money that you have paid under this agreement.
Overview
Mileage
114760
co2 (g/km)
0.00
Engine Size
2143
Colour
White
MPG Combined
0.00
Body
Luton Box
Fuel Type
Diesel
Transmission
Manual
Payload
0
No of Doors
3
No of Seats
3
Drive Train
Rear Wheel Drive
This vehicle is now available for pre-order. This is your opportunity to secure one of our newest vehicles with only a low refundable deposit. We are currently putting it through a thorough refurbishment and it should be available soon. If you change your mind, or if for any reason this vehicle fails to meet our demanding standards we will endeavour to find a suitable alternative or refund your deposit in full. A reliable luton box. The vehicle comes with the following features - Airbags, Bluetooth, Cruise control, Electric windows, Power steering. Other than the usual wear this van is in excellent condition and was maintained to the very high standards of Northgate vehicle hire. The van is serviced and ready to drive away. This Mercedes-Benz Sprinter was registered in 2018 and has 114760 recorded miles. Located at our Leicester branch, this Mercedes-Benz Sprinter is now available for test drive but we also offer a nationwide delivery service. Every Mercedes-Benz Sprinter we sell comes with peace of mind. At Van Monster we have over 35 years' experience and offer 14 days money back guarantee, which means we will refund the full amount or replace your vehicle like for like if you are not completely satisfied. Our Van Monster free warranty supports you for 6 months or up to 10,000 miles – keeping you on the road and providing you with peace of mind that your vehicle is covered from the moment you drive away from a Van Monster branch. Part exchange is always available and we offer a range of flexible finance options, making it even easier to drive away in the perfect vehicle. Van Monster has built a reputation for quality, and has grown to become the largest used commercial vehicle retailers in the UK, with a large variety of commercial vehicles in stock at any time.
Steering Wheel Mounted Audio Controls
Yes
Tyre Pressure Monitoring System
No
*Payload must be confirmed with Manufacturer's brochure ref EU directive 95/48/EC
Part Exchange
If you would like to part exchange your current vehicle please complete our valuation form using the link below.
200 Aylestone Road
Leicester
LE2 7LF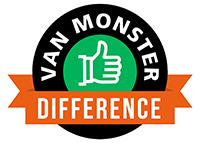 6 month warranty* 14 Day Money Back/ Vehicle Swap* Breakdown Cover Included Courtesy Vehicles Vehicle Price match Accident Management Support Fuel Discount Card* Smart GPS Key Finder All vehicles HPI checked
What our customers say
'I have been dealing with Van Monster for a few years now and have always found them to be people of their word. I was in the motor business for many years so understand more than most what "can happen". In conclusion I would have no hesitation in recommending Van Monster or Chris K the lad I normally deal with at their branch in Warrington, please keep up the good work and your business will continue to grow. PS Have just had some warranty work done at their branch in Southampton and it was exactly the same good service.'
Richard Budd, Buddys Travel
'I'd like to put a brilliant review in about 2 members of your staff one from Blaydon branch, Gary Pace what an amazing person. Customer relations is top rate. He couldn't but be anymore help. He helped me through every step of me buying a van from them keeping me informed throughout the time of my sale and there's also Emma from Darlington branch who was great help and again she was brilliant whilst she was working at the Blaydon branch for a few days covering for Gary. In total brilliant and professional.Thanks'
Brian Spence