Renault Master
FWD LM35 DCI 130 Business EU6
2018
(182D10311)
Great news! Contactless delivery is available at this branch
Finance (Hire Purchase) Example
Please note that the calculator is here only to provide an indication as to what your repayments may be on a loan for a van.
The figures provided may differ depending on your personal circumstances and whichever lender agrees to provide you with a loan.
We are not linked to a specific lender. The helpful calculator will hopefully show what your repayments are likely to be based on your loan amount.
Overview
Here we have a reliable large van with a payload of 1485Kgs. The vehicle comes with the following features - ABS, Airbags, Bluetooth, Bulkhead, Cruise control. Other than the usual wear this van is in excellent condition and was maintained to the very high standards of Northgate vehicle hire. The van is serviced and ready to drive away. This Renault Master was registered in 2018 and has 65839 recorded miles. The next MOT is due on 02/06/2023. Located at our Cork branch, this Renault Master is now available for test drive but we also offer a nationwide delivery service. Every Renault Master we sell comes with peace of mind. Since 2012 Van Monster have been selling quality used vans to businesses and private individuals offering ex-hire vehicles directly to the market. Building on a strong customer demand for quality used vehicles, the business has continued to expand geographically and now has four sites in Ireland. Our Van Monster free warranty supports you for 3 months or 3000 km– keeping you on the road and providing you with peace of mind that your van is covered from the moment you drive away from a Van Monster branch. Van Monster has built a reputation for quality with a variety of commercial vehicles in stock at any time all from top manufacturers with varying ages and mileages, available to view online or at your nearest branch.
*Payload must be confirmed with Manufacturer's brochure ref EU directive 95/48/EC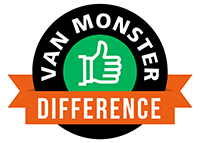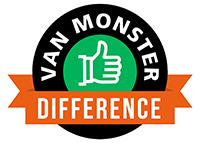 3 month warranty* Full Service History Minimum 6 Months CVRT
What our customers say
'I would just like to say thank you for all your help regarding the purchase of the Vauxhall Vivaro. The entire team helped make the transaction as quick and easy as possible. The van was excellently presented and in superb condition just as described. I would definitely recommend Van Monster to any potential buyers and I would certainly use Van Monster again.'
Steve Taylor
We would like to thank Mark from the Van Monster Cardiff branch for an extremely professional service! We have bought many vehicles over the years from many different companies and have experienced a number of issues. Mark's commitment to us and our vehicle has been second to none and we wanted to say thank you, it's been the only time in our buying history we have been treated with respect understanding and commitment. It feels like you are our friend and we peace of mind / trust and car. You do an amazing job and would like to recognise this and take the time to promote you, and Van Monster!
Mark and Corrina